The Church Bazaar 2021: Saturday 20 November 11:00am – 5:00pm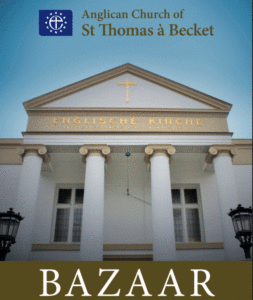 2G Bazaar
Due to the new Hamburg covid regulations, the Church Bazaar on 20 November will be run as a 2G event.
Access to the bazaar will be permitted only for people who are
vaccinated
recovered fully from covid with written proof
under 18
or have a medical written document exempting them from vaccination
This will be cross checked against ID cards/passports/your Smartphone before entering the church.
Standard precautions – masks, social distancing – apply. Not more than 50 visitors may be in the chutch at any one time.
We hope you still come, enjoy and buy all the wonderful things on offer.
Order your Christmas cards in aid of our church – on sale now
After the success of last year's online sales of our popular recycled cards sold in aid of the historic English Church of St Thomas à Becket, we are repeating the online ordering option this year alongside physical sales. Motifs range from religious and nativity scenes, winter landscapes, robins, Christmas scenes, animals, humorous, and other festive themes such as wreaths, flowers candles, etc. The cards, complete with envelopes, are 148 x 110 mm and have a Christmas and New Year greeting in English and German.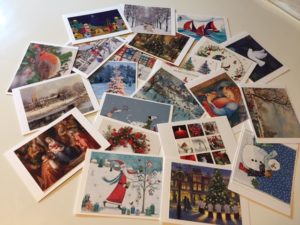 Cards can be ordered using this Order Form or by telephoning Judith Holst. The cards will also be on sale at some events including the Church Bazaar on 20 November, and after the Sunday service from 21 November until 19 December.
An essential activity supporting the church financially
St Thomas Becket Church does not receive money from German Kirchensteuer or from the Church of England and so is completely dependent for its financial existence on donations and revenue-generating activities. The annual Church Bazaar is the most important of the latter. It is also good fun!
If you'd like to get involved – running a stall of your own, making chutneys, preserves and craft items, or helping out in the build-up or on the day – please contact the churchwardens via the church office.
The Bazaar organisers are happy to receive English books during the year. Please approach the church office if you can help.
Please note the Bazaar does not collect clothes.